CTBA/CTF Library Catalog
To access the catalog of the CTBA/CTF Library, click: http://opac.libraryworld.com/opac/home.php, then type CTBA in search box.
---
Louie Loves Seabiscuit
September 2017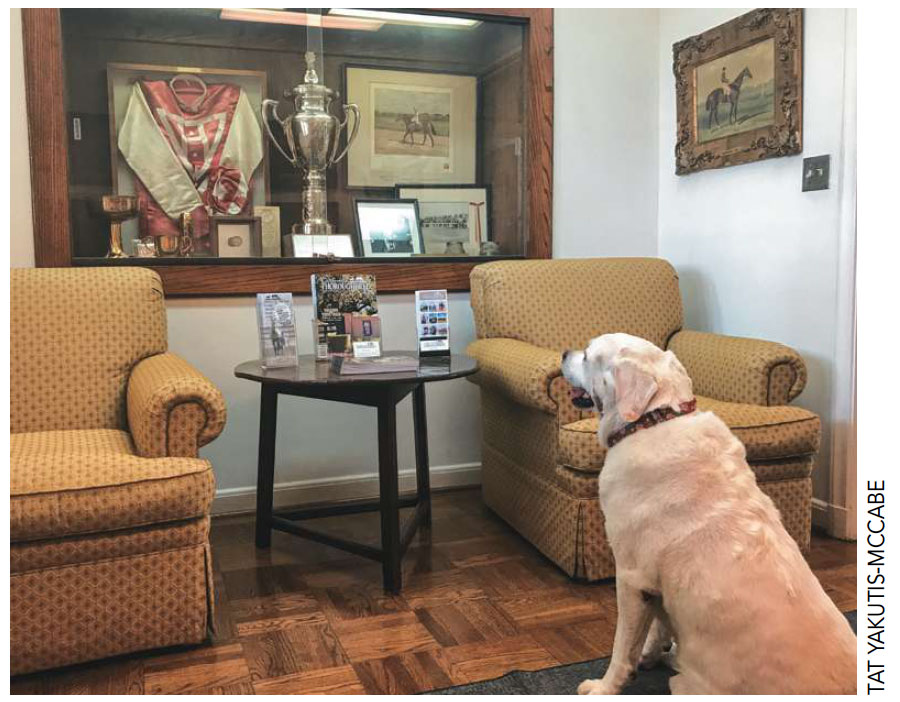 Anyone who spends time at Clockers' Corner at Santa Anita knows Louie, trainer Carla Gaines' dog. He is a frequent visitor to Clockers' Corner and knows just which regulars keep treats for him. Recently, Louie and Tat Yakutis-McCabe visited the CTBA office, where Tat captured this photo of Louie communing with the Seabiscuit memorabilia.
Thirty years ago the C.S. Howard family bequeathed many of Seabiscuit's trophies and photos and loaned others to the California Thoroughbred Foundation, which lovingly houses them at the CTBA. Seabiscuit won the giant silver cup in his famous match race with Triple Crown winner War Admiral. Louie also admired the Howard silks and trophies for (from left) the 1940 Santa Anita Handicap, a special cup presented by the Los Angeles Turf Club in 1939, and the inaugural Hollywood Gold Cup of 1938.
---
The California Thoroughbred Foundation
The California Thoroughbred Foundation is dedicated to the advancement of equine research and education. Since 1958 the Foundation has operated as a non-profit 501(c)3 corporation that can accept tax-deductible contributions. For more than five decades the CTF has sponsored numerous research and educational projects and awarded scholarships to veterinary students at U.C. Davis and Western University of Health Sciences in Pomona.
The Foundation maintains the Carleton F. Burke Memorial Library, one of the most extensive collections of equine literature found anywhere. Several generous donations of book collections and artwork form the core of the library, which is housed in the CTBA offices in Arcadia. Among its 10,000 volumes are current veterinary publications, turf histories, sales catalogs, and books spanning a wide range of subjects from equine nutrition and care to fine arts. The latest instructional videos also are available for viewing in the library.
The resources of the CTF's Carleton F. Burke Memorial Library are available to the public for research and pleasure.
For past articles, please look at our magazine archives