CTBA/CTF Library Catalog
To access the catalog of the CTBA/CTF Library, click: http://opac.libraryworld.com/opac/home.php, then type CTBA in search box.
---
Anna Dahlgren Receives Rowan Fellowship
November 2017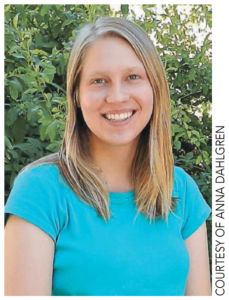 The California Thoroughbred Foundation has awarded the 2017 Louis R. Rowan Fellowship Award to Anna Dahlgren, a graduate research student at the Finno Laboratory at the University of California Davis.
Dahlgren is currently completing her PhD in integrative generics and genomics at U.C. Davis, having obtained her bachelor of science degree in biochemistry/molecular biology from Bethel University in St. Paul, Minn. She is currently investigating a genetic mutation that is found in one in 150 Thoroughbreds known as Atypical Equine Trombasthenia (AET). This mutation causes prolonged bleeding from injury and could be associated with exercised induced pulmonary hemorrhage (EIPH), commonly known as "bleeding."
THe ability to screen horses for this mutation could have a very significant impact on the racing industry," said Claudia Sonder DVM of the Center for Equine Health at U.C. Davis. "Anna will be working with Dr. Fern Tablin, who is a world-renowned platelet researcher, and with Dr. Carrie Finno, who is a leader in equine genetic disorders."
Dahlgren took a career survey in middle school that matched her with a career as an animal scientist.
"I have always been fascinated with diseases as they pertain to animals, especially horses," said Dahlgren in her biography submitted with the Rowan Fellowship application. After Barbaro was injured in the 2006 Preakness Stakes (G1), she said she "spent hours researching the disease, partly due to my love of the horse and partly because I found the information intriguing." She described her specific interest as the explanation of "the genetic mechanism of equine disease and using this knowledge to prevent and potentially treat the disease."
After graduation, Dahlgren would like to continue in academia and become a principal investigator of her own laboratory to advance the field of animal genetics.
The Louis R. Rowan Fellowship is named in memory of one of the founders of the California Thoroughbred Foundation. Rowan, who also was one of the founders of the Oak Tree Racing Association, campaigned an active racing stable, including California-bred Quicken Tree, winner of such races as the 1970 Santa Anita Handicap.
---
Memorial Donations
The CTF accepts donations in memory of relatives and friends, with all such donations allocated to Scholarship Funds of the Foundation and to the Carleton F. Burke Memorial Library. Please remember members of our industry with a donation to the CTF memorial fund. Donations may be sent to: CTF, P.O. Box 60018, Arcadia, CA 91066-6018.
---
The California Thoroughbred Foundation
The California Thoroughbred Foundation is dedicated to the advancement of equine research and education. Since 1958 the Foundation has operated as a non-profit 501(c)3 corporation that can accept tax-deductible contributions. For more than five decades the CTF has sponsored numerous research and educational projects and awarded scholarships to veterinary students at U.C. Davis and Western University of Health Sciences in Pomona.
The Foundation maintains the Carleton F. Burke Memorial Library, one of the most extensive collections of equine literature found anywhere. Several generous donations of book collections and artwork form the core of the library, which is housed in the CTBA offices in Arcadia. Among its 10,000 volumes are current veterinary publications, turf histories, sales catalogs, and books spanning a wide range of subjects from equine nutrition and care to fine arts. The latest instructional videos also are available for viewing in the library.
The resources of the CTF's Carleton F. Burke Memorial Library are available to the public for research and pleasure.
For past articles, please look at our magazine archives