CTBA/CTF Library Catalog
To access the catalog of the CTBA/CTF Library, click: http://opac.libraryworld.com/opac/home.php, then type CTBA in search box.
---
Equine Portrait Book Added to Collection
June 2017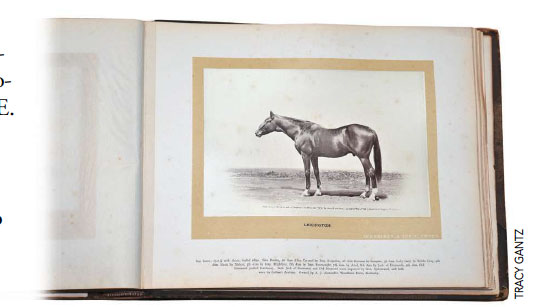 The Carleton F. Burke Library has received an extraordinary old book of horse photographs, donated by Susan E. Williams of Oakland, Calif.
Titled Portraits of Noted Horses of America, it contains 48 photographs attributed to Gerhard Schreiber and was published in Philadelphia in 1874. Schreiber & Sons, leading photographers of animals in Philadelphia in that era, issued the book, and the photos are copyrighted between 1871 and 1874.
Many of the photos are of trotting horses, including Hambletonian, known as the father of the Standardbred breed. The Toroughbreds include Lexington, a foal of 1850 who was renowned both as a champion racehorse and as America's leading sire for many years. The photos are accompanied by such information as pedigree, size, ownership information, and stud fees.
---
The California Thoroughbred Foundation
The California Thoroughbred Foundation is dedicated to the advancement of equine research and education. Since 1958 the Foundation has operated as a non-profit 501(c)3 corporation that can accept tax-deductible contributions. For more than five decades the CTF has sponsored numerous research and educational projects and awarded scholarships to veterinary students at U.C. Davis and Western University of Health Sciences in Pomona.
The Foundation maintains the Carleton F. Burke Memorial Library, one of the most extensive collections of equine literature found anywhere. Several generous donations of book collections and artwork form the core of the library, which is housed in the CTBA offices in Arcadia. Among its 10,000 volumes are current veterinary publications, turf histories, sales catalogs, and books spanning a wide range of subjects from equine nutrition and care to fine arts. The latest instructional videos also are available for viewing in the library.
The resources of the CTF's Carleton F. Burke Memorial Library are available to the public for research and pleasure.
For past articles, please look at our magazine archives
[/span6]