See the full story featured in our printed magazine online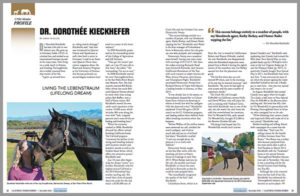 ---
Dr. Dorothée Kieckhefer has had a life split in two distinct acts. She grew up in Germany, holds a Ph.D. in criminal law, and worked as an international business journalist for many years. Now living on a cattle ranch in Arizona and breeding Thoroughbreds, she is widely removed from that version of her life.
"I grew up around horses, riding mainly dressage," Kieckhefer said, "and later was introduced to Quarter Horses and Appaloosas as well, then both a rarity in Germany. I read in an American Quarter Horse Association magazine about the Racetrack Industry Program at the University of Arizona that focuses primarily on second-degree students interested in a career in the horse industry."
In 2005 Kieckhefer graduated as the outstanding senior of the College of Agriculture and Life Sciences.
"They got the 'senior' part right, as I was 45 years old at that time," she joked. "The 'outstanding' I'm not so sure."
In 2006 Kieckhefer started her own Thoroughbred farm at the San Pedro River Ranch near Benson, Ariz. She had recently married Bill Kieckhefer, whose late uncle Bob raced Quarter Horses piloted by none other than young jockey Bob Baffert, now a Hall of Fame trainer. Bill Kieckhefer moved his own cattle ranch operation to the current 10,000 acres, which includes 360 acres along the river with "lush, irrigated pastures and a state-of-the-art foaling and breeding barn."