See the full story featured in our printed magazine online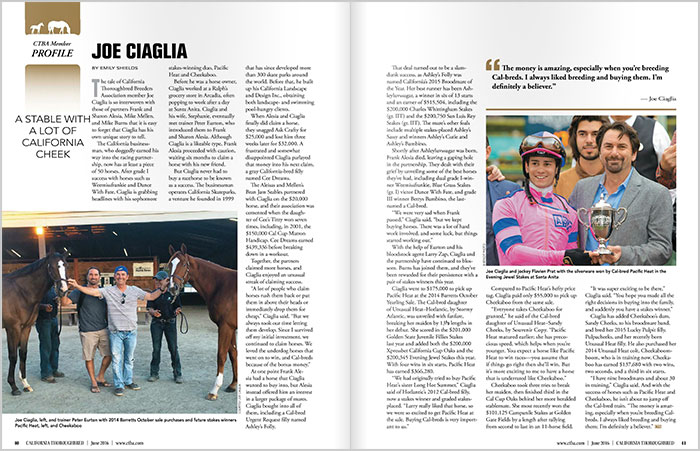 ---
By Emily Shields, condensed version:
A STABLE WITH A LOT OF CALIFORNIA CHEEK
The tale of California Thoroughbred Breeders Association member Joe Ciaglia is so interwoven with those of partners Frank and Sharon Alesia, Mike Mellen, and Mike Burns that it is easy to forget that Ciaglia has his own unique story to tell.
The California businessman, who doggedly earned his way into the racing partnership, now has at least a piece of 50 horses. After grade I success with horses such as Weemissfrankie and Dance With Fate, Ciaglia is grabbing headlines with his sophomore stakes-winning duo, Pacific Heat and Cheekaboo.
Before he was a horse owner, Ciaglia worked at a Ralph's grocery store in Arcadia, often popping to work after a day at Santa Anita. Ciaglia and his wife, Stephanie, eventually met trainer Peter Eurton, who introduced them to Frank and Sharon Alesia. Although Ciaglia is a likeable type, Frank Alesia proceeded with caution, waiting six months to claim a horse with his new friend.
But Ciaglia never had to buy a racehorse to be known as a success. The businessman operates California Skateparks, a venture he founded in 1999 that has since developed more than 300 skate parks around the world. Before that, he built up his California Landscape and Design Inc., obtaining both landscape- and swimming pool-hungry clients.
When Alesia and Ciaglia finally did claim a horse, they snagged Ask Crafty for $25,000 and lost him three weeks later for $32,000. A frustrated and somewhat disappointed Ciaglia parlayed that money into his next claim, a gray California-bred filly named Cee Dreams.
The Aleisas and Mellen's Bran Jam Stables partnered with Ciaglia on the $20,000 horse, and their association was cemented when the daughter of Cee's Tizzy won seven times, including, in 2001, the $150,000 Cal Cup Matron Handicap. Cee Dreams earned $439,336 before breaking down in a workout.
Together, the partners claimed more horses, and Ciaglia enjoyed an unusual streak of claiming success.
"A lot of people who claim horses rush them back or put them in above their heads or immediately drop them for cheap," Ciaglia said. "But we always took our time letting them develop. Since I survived off my initial investment, we continued to claim horses. We loved the underdog horses that went on to win, and Cal-breds because of the bonus money."
At one point Frank Alesia had a horse that Ciaglia wanted to buy into, but Alesia instead offered him an interest in a larger package of mares. Ciaglia bought into all of them, including a Cal-bred Urgent Request filly named Ashley's Folly.