See the full story featured in our printed magazine online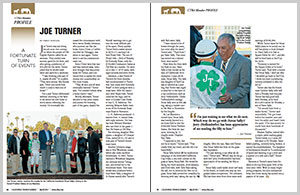 ---
Joe Turner was just doing his job as an iron contractor when the people of Old English Rancho called for an estimate. They needed new security gates for the farm, and after giving a prediction of $32,000 for the work, Turner joked that he would trade labor and parts for a racehorse.
"I was thinking only part of it, maybe $5,000," he recalled. "They were serious. My friends said, 'Don't you know how much it costs to feed one of those?' "
For a year Turner deliberated without returning to the farm to see about his new horse or worry about collecting the money. He eventually discussed the circumstance with farm owner Buddy Johnston, who pointed out that the horse, Some Hitter, a California- bred by Dimaggio, was about to race again. Turner went to see his construction trade run.
Some Hitter won that race and was claimed away. Johnston thought that was pretty lucky for Turner, and convinced him to parlay the claim money into a partnership on five more horses.
"They all won and all were eventually claimed," Turner said. "He couldn't believe what a lucky charm I was."
Shortly afterward, Turner decided to buy some mares and pursue the breeding part of the game, despite his friends' warnings not to get into the most difficult part of the sport. Pretty quickly Turner bred a stakes winner in $259,271-earning Calbred Royal Irish. The son of Proud Irish—She's of Royalty, by Kennedy Road, took the $150,000 Graduation Stakes at Del Mar as a maiden. He went on to win 11 of 45 starts, with eight seconds and seven thirds.
Johnston, a dear friend of Turner's for three decades, had recommended to Turner that "any mares with Kennedy Road" in their pedigree were a must-have. After the experience with Royal Irish, Turner could see the logic, and he went to Golden Gate Fields to buy C. R. Ballerina. The winning Moscow Ballet mare is out of the Kennedy Road mare Road to Romance.