See the full story featured in our printed magazine online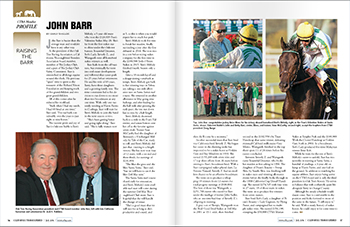 ---
By Emily Shields, condensed version:
John Barr
John Barr is busier than the average man and wouldn't have it any other way. As the president of the Oak Tree Racing Association, a California Thoroughbred Breeders Association board member, member of The Jockey Club, and a part of The Jockey Club Safety Committee, Barr is entrenched in all things equine around the clock. His precious "spare" time is spent as the treasurer of the Richard Nixon Foundation and keeping track of five grandchildren and two great-grandchildren.
All of this comes after he reduced his workload.
"Back when I had my ranch, I had 60 head at one time," Barr said. "I've cut back considerably over the years to just eight or nine horses."
The current pride and joy of Barr's Oakcrest Stable is Bert's Melody, a 5-year-old mare who won the $126,035 Fran's Valentine Stakes May 28. She's far from the first stakes star to shine under the Oakcrest banner; Bountiful Dreamer, Bob's Lady, Beverly Z., and Waingarth were all homebred stakes winners as well.