See the full story featured in our printed magazine online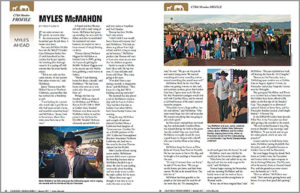 ---
First stakes winners are special, no matter what the circumstances. When a homebred gets the job done, it means even more.
Not only did Myles McMahon win the $60,075 Golden Gate Debutante Stakes Nov. 25 with homebred Isa Firecracker, but he put together the breeding after thorough research. It is paying of with winners that his entire family enjoys.
"This is not only my first stakes winner, it's my trainer's first stakes winner too," said McMahon.
Jamey Tomas trains Mc-Mahon's horses in Northern California, a partnership that has evolved into a friendship as well.
"I was looking for a trainer who would take a guy like me who had never owned a horse and would be somewhat local," said McMahon. "Jamey lived in Sacramento, about three miles away from me at the time." ……..