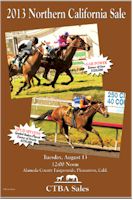 PLEASANTON, Calif. (July 3, 2013) — The catalog is now online for the August 13, 2013 Northern California Sale. Click here for the catalog and supplemental entry form.
This year's sale will be held at the Alameda County Fairgrounds beginning at noon. There are 103 yearlings and horses of racing age cataloged. The yearlings represent most of the top stallions in the state.
Supplemental entries will be accepted until the day of the sale.
Since the sale returned under the direction of the California Thoroughbred Breeders Association in 2004, it has produced stakes winners such as Bai and Bai, an earner of $724,983; Grade II winner Sierra Sunset; and Grade III winner Autism Awareness.
For more information on the sale, contact Cookie Hackworth, CTBA Sales Coordinator, at cookie@ctba.com or 800-573-2822 ext. 243.